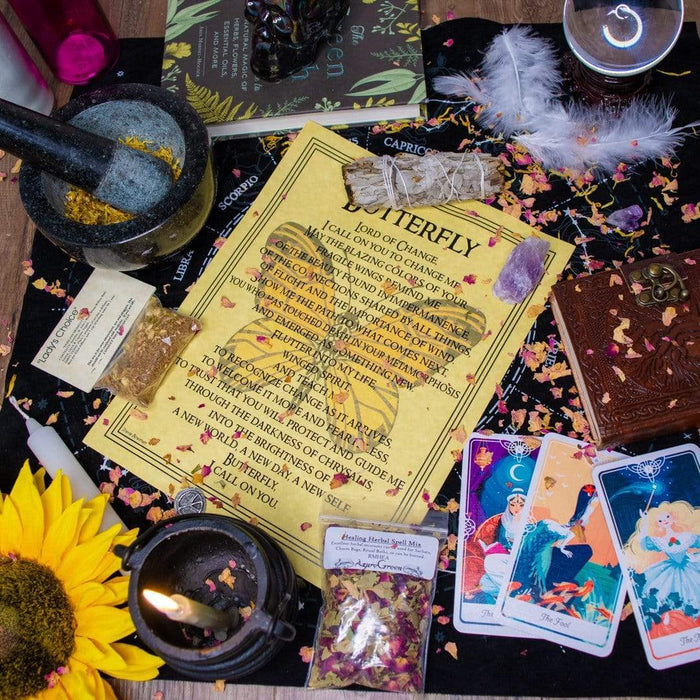 New Witches Box (3 Month Prepay)
Save

$107.00
Save

$107.00
Original price
$179.97
-
Original price
$179.97
The Witches Box of Magick supplies will help you manifest your desires, magnify your intentions, and master your powers within. Each month you'll receive a box of spells and apothecary supplies right to your door. 

Your deliveries will include moon charged crystals. Naturally grown herbs from our very own organic garden. Delicious teas, ritual tools & altar items, essential oils & so much more. - You'll love each months special theme!


1st Tier


Cute way to enjoy a little bit of witchiness! Resupply each month with our themed crystal and herb kits. You can use it with our included spell or use it with any spell you choose using the theme's magical properties in these metaphysical items. 


2nd Tier
Keep your apothecary supplies for your earth magic stocked! Every month get hand picked themed rituals, to practice your craft. These rituals can include items that any witch new or seasoned would need. Items included are crystals, herbs, handmade candles, altar items, jewelry, and other specialty tools to help you elevate your magick.

Each box gives you intention setting rituals. To help guide you through using the items within the box. With manifestation and intention, you are able to expand your craft and enjoy this interactive experience.

Sign Up Today and Get Bonus - Get access into our private facebook group for FREE! (normally 29.99). The Witches Inner Circle, where we do live streams, giveaways and much more. Link available directly after purchase.

Boxes will be shipped out around the 14 of each month.
*Subscription is month to month. You can cancel anytime. Renewal date is on the anniversary of the date you initially signed up and can be changed by logging into your account. Cancellations must be made 3 days prior to your individual renewal date to be effective for that months renewal.