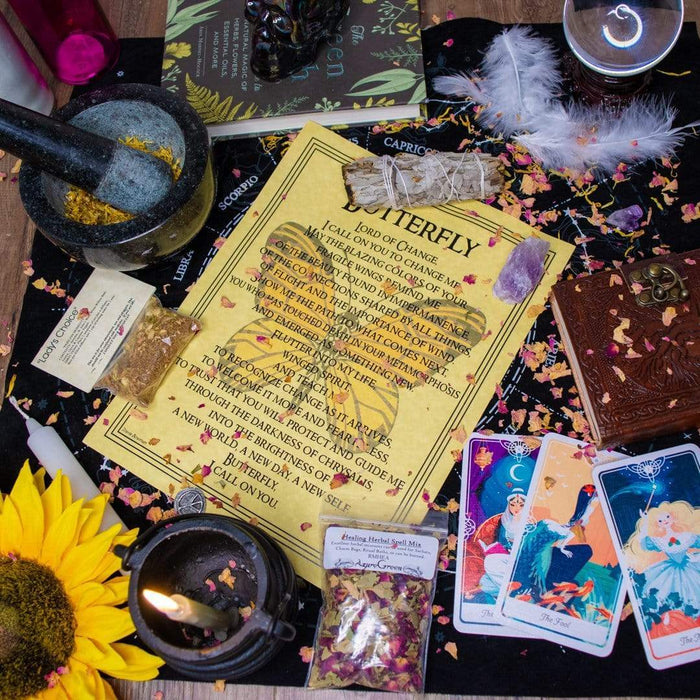 The Witches Box (Monthly Subscription)
Save

$35.02
Save

$35.02
Original price
$59.99
-
Original price
$59.99
Want To Become A Witch, But Don't Know Where To Start?


Learn your craft through Magick delivered to you.

100% Natural & Ethically Sourced Materials.

Stop Neglecting your practice, with monthly magick supplies.
100% Natural, Organic Ingredients.
Herbs Grown right in our Organic Garden, just for you!
So you will never have to worry if your herbs are sustainably sourced, again!
Safe and Easy Spells
 for new practitioners. 
We'll walk you through setting up your Altar, Cleansing your space, Invoking Deities, Defining your intentions and much, much more!



Fast & Free Shipping

Packed and Shipped from the USA!
Boxes Start Shipping out around the 15th of each month.




Cancel Anytime. Through your Dashboard.



What's Inside Makes Our Box Great!
Get monthly Spells, Rituals, Altar Items, Herbs, and More!

Discovering your craft is a journey, filled with many paths or practices. 

We make your journey easier. Providing you with a fun learning experience. 

We help you find your path, and learn to manifest your desires into reality. 

So, you can go from being totally new to a more experienced practitioner.  

In the Beginning it can be Challenging. 


Our boxes help guide you through your craft.
 
Helping you to Manifest your Desires and channel your intentions as you dive deep into learning about witchcraft.
 
 Crystals Charged under each Month's full moon.



 
Add Magickal Texts to your Grimoire, Monthly.



Learn the different types of witchcraft and discover the one that calls
to you.


 
Enjoy the sabbats and Discover what they mean to your craft.


 
Each Month get access to intention rituals to help guide you through that months theme. 


What Comes in the Box?
• Each box contains 5 - 7 Items. (valued 100$+)
• Rituals, Spells, Altar items, Crystals & More.
• Add to your Grimoire Pages.
• Join our Private Facebook Group (4k Members) Lifetime Access.
• Discover your craft.


 Ships Around the 15th of Each Month.
Guides you through Lunar Rituals, Sabbats, Protection Spells, Grounding, Cleansing and Much More!
Helps Give back to Native Americans
Ships Around the 15th of Each Month.
Get Your box today and Get a FREE Bonus - Access our private facebook group (normally 29.99). The Witches Inner Circle, where we do live streams, giveaways and much more. Link available directly after purchase. Please note the box-art is for marketing purposes only and may change anytime.  

Purchasing today, will ensure you get the box for next month!

But don't wait to long, Supplies are super limited!

Thank you so much for supporting our small business! Blessed Be.